Yelp Us If You Like Here!
What is GMP Click Here?
Contributing Factors to Gout
Welcome to Gout-Care-We-Care

by Smith & Smith Enterprises

Our goal is to bring you the latest in important information regarding your joint health. We thank you for joining us and hope that you take the time to enjoy the information we have to share with you as well as our delicious recipes that show you just how you can have your steak and eat it too! Please be sure to contact us should you have any questions at all! Contact and site information can be found below. Thank You!

Are you aware of how you may have developed Gout in the first place? Contrary to belief, Gout has no restriction to age and gender. Gout has been on the rise in recent decades, continuing to reach epic proportions.
Even those genetically predisposed to Gout can still control their attacks, and prevent future attacks as well, with some simple lifestyle adjustments and all natural supplement support.
| | |
| --- | --- |
| Low Kidney Clearance | Restricted Blood Flow |
| Liver Abnormalities | Obesity |
| Overly Acidic and Purine Rich Diet | Alcohol Consumption |
| Stress | Poor Nutrient / Vitamin Intake |
| Low Friendly Bacteria Presence | Antibiotic Use |
| Prescription and OTC Medications | High Blood Pressure Diuretics |
| Illness / Injury / Surgery | Crash Dieting & High Protein Diet |
| Water Intake & Source | Chlorine Contact |
Recipe you can enjoy without fear while using our product program
Grilled Shrimp Cocktail with Yellow Gazpacho Salsa (4)
Ingredients
4 medium yellow tomatoes, (1 pound), seeded and finely chopped
1 yellow bell pepper, finely chopped
1 medium cucumber, peeled, seeded and finely chopped
1 stalk celery, finely chopped
1/2 small red onion, finely chopped
2 tablespoons minced fresh chives
2 tablespoons white-wine vinegar
3 tablespoons lemon juice
1 tablespoon real melted butter
1 tablespoon Worcestershire sauce
1/2 teaspoon freshly ground pepper
1/4 teaspoon salt
Several dashes hot sauce, to taste
1 pound raw shrimp, (21-25 per pound; see Note), peeled and deveined
2 cloves garlic, minced
2 tablespoons minced fresh thyme

Preparation

Mix tomatoes, bell pepper, cucumber, celery, onion, chives, vinegar, 2 tbls of the lemon juice, Worcestershire sauce, pepper, salt and hot sauce in a large bowl. Cover and chill for at least 20 minutes or up to 1 day.
Mix shrimp, melted butter, remainder tbls of lemon juice, garlic and thyme in a medium bowl; cover and refrigerate for 20 minutes.
Coat a grill pan with cooking spray and heat over medium-high heat or preheat the grill to medium-high and oil the grill rack (see Tip). Cook the shrimp until pink and firm, about 2 minutes per side. Serve the shrimp with the salsa in martini glasses or bowls.

Tips & Notes

Make Ahead Tip: Prepare through Step 1. Cover and refrigerate for up to 1 day.

Note: Shrimp is usually sold by the number needed to make one pound. For example, "21-25 count" means there will be 21 to 25 shrimp in a pound. Size names, such as "large" or "extra large," are not standardized, so to be sure you're getting the size you want, order by the count (or number) per pound.
Both wild-caught and farm-raised shrimp can damage the surrounding ecosystems when not managed properly. Fortunately, it is possible to buy shrimp that have been raised or caught with sound environmental practices. Look for fresh or frozen shrimp certified by an independent agency, such as Wild American Shrimp or Marine Stewardship Council. If you can't find certified shrimp, choose wild-caught shrimp from North America-it's more likely to be sustainably caught.
To peel shrimp, grasp the legs and hold onto the tail while you twist off the shell.
Tip: To oil the grill rack, oil a folded paper towel, hold it with tongs and rub it over the rack. (Do not use cooking spray on a hot grill.)
Note: Grilling/high direct heat cooking methods can alter the food chemically making it very unhealthy. Marinating your food in a citrus prior to cooking reduces the carcinogens by an astounding 99%!
Note: A balanced meal should consist of 30% acidic to 70% alkaline (mainly veggies). In order to balance this meal one should add a nice baked sweet or baking potato with sour cream.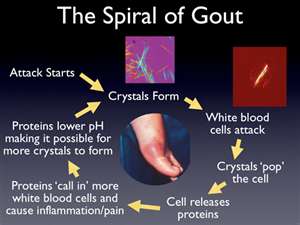 Has your Gout spiraled out of control already? What is in your future? This is your reality unless you do something about it! The grotesque truth about what's underneath: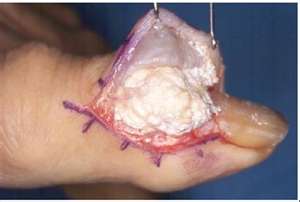 Monosodium Urate Crystals


For more information see links below:
Contact Us



Smith & Smith Enterprises

168 W Main Street Unit 370
New Market, MD 21774



Phone: 1-877-633-4688

Email: customerservice@goutcare.com

Fax: 1-877-686-6762





Order online 100% securely ~ All your information will be encrypted with 128 bit encryption (high) RSA with 1024 bit exchange.
*The products have not been evaluated by the Food and Drug Administration, and they are not intended to diagnose, treat, or cure any disease.
We accept Mastercard, Visa, PayPal, and American Express. Copyright 1998-2020 Goutcure.com / Goutcare.com / OrderGC.com / Stopgout.com / Gout-Care.com / AHR4Health.com.
Alternative Health Research LLC T/A Smith and Smith Enterprises 11941 Main St. - Unit 130, Libertytown, MD 21762-1100 . All Rights Reserved.
Privacy Policy
---









*These statements have not been evaluated by the Food and Drug Administration. These products are not intended to diagnose, treat, cure, or prevent any disease.